Connecting Industry to Culture and Homes
Welcome to our consultation website regarding the phased redevelopment of Uplands Business Park. On this website we will outline the updated proposals, following community feedback during the first consultation in 2021. We have now hosted our consultation and our two in-person exhibitions on Saturday 5th and Wednesday 9th of February. We are very pleased to have had the chance to engage with all those interested, explain our proposals and gain valuable feedback.
Uplands Business Park has become increasingly home to a more diverse mix of businesses, food producers, artists, media and entertainment companies, and education providers – more creative businesses than traditional industry. Many have begun to trade directly with customers, on site, which has attracted people into the area.
To replace the bulk of the industrial space first.
To increase that floorspace by 1,000sqm to create over 29,000sqm of modern industrial space.
To retain, support, and grow business in the area.
To create 1,000+ new high-quality jobs.
Waltham Forest is home to some of London's most exciting cultural offerings. Vibrant entertainment, excellent food and drink, dynamic local businesses, and interesting places to explore – these are the qualities also associated with Uplands Business Park which we want to promote.
Providing a significant amount of amenity and recreational space - over 25% of what is required by policy.
Cementing the borough of cultural legacy.
The creation of a major new waterside park open to all.
Successful places consist of a mix of complementary uses that support and enhance each other - creating vibrant places to live, visit and work. Introducing homes to Uplands Business Park that sit comfortably alongside industrial space will create a new sustainable and exciting mixed-use neighbourhood in Waltham Forest.
The creation of 119 new homes in Phase 1 with the potential to create up to 1,676 new homes in phase 2.
35% of all new homes will be affordable to rent and buy.
A £600+ million investment to create a new mixed-use neighbourhood.
Sustainability is a key consideration for us, and our proposals will be responding to the climate emergency that has been identified by Waltham Forest.
A big increase in biodiversity with net gain targets of +20%.
An aim to reuse, recycle, or recover 95% of construction and demolition waste.
Encouraging sustainable modes of transport via the provision of electrical charging points for all vehicles & secure cycle storage.
Designing highly sustainable new buildings.
In July 2021, we undertook a series of engagement activities designed to understand the local community's views and priorities regarding the future of Uplands Business Park. During the consultation we received over a thousand visits to our consultation website, hundreds of completed survey forms and a number of people attending our drop-in sessions.
You can see the comments and views that the local community had below.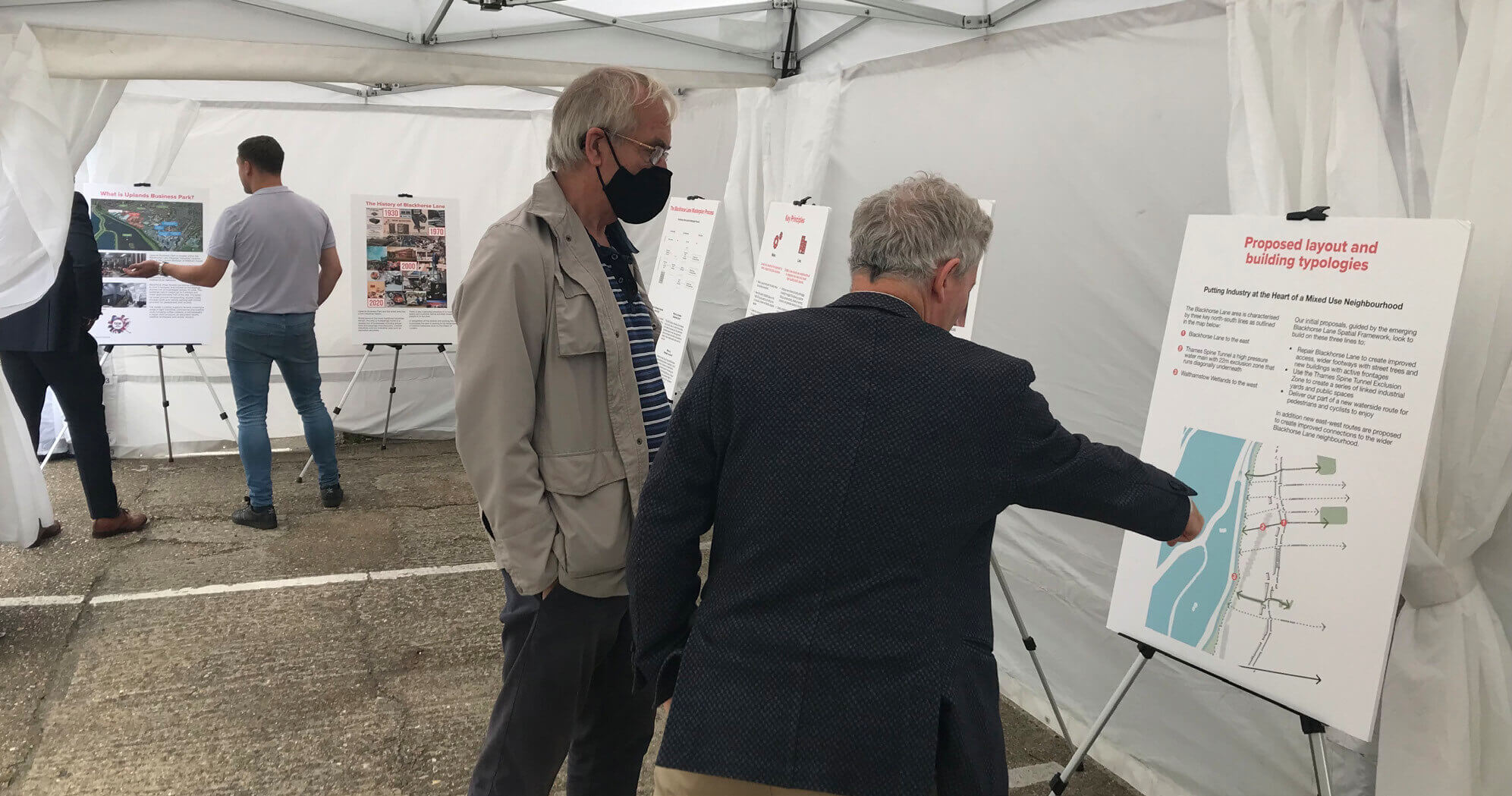 We have now hosted our two in-person exhibitions on Saturday 5th and Wednesday 9th of February. The two exhibitions were attended by a total of over 100 people, a mix of residents and businesses. We are very pleased to have had the chance to engage with all those interested, explain our proposals and gain valuable feedback.

If you still want to find out more about the proposals, please contact us using:

Freephone Number: 0800 193 6698
Email: uplands@futureofuplands.com
*Any information you choose to provide will be processed in accordance with our Privacy Notice which you should read carefully
For business at Uplands Business Park