Please click the icons on the map to find out more details about what is proposed at Uplands Business Park.
Waterside route for pedestrians and cyclists
Series of improved public spaces throughout the area
Creation of wider and more accessible entrances from Blackhorse Lane to Uplands Business Park particularly for industrial servicing
Retain Uplands House and improve the outlook on Blackhorse Lane including planting new trees
Improved access for larger industrial vehicles and a loop access road for industrial servicing to reduce reversing and turning
Low traffic area towards the west of Uplands Business Park to create new shared spaces and an improved environment for pedestrians and cyclists.
A permeable network of streets for all road users including better pedestrian and cycle links.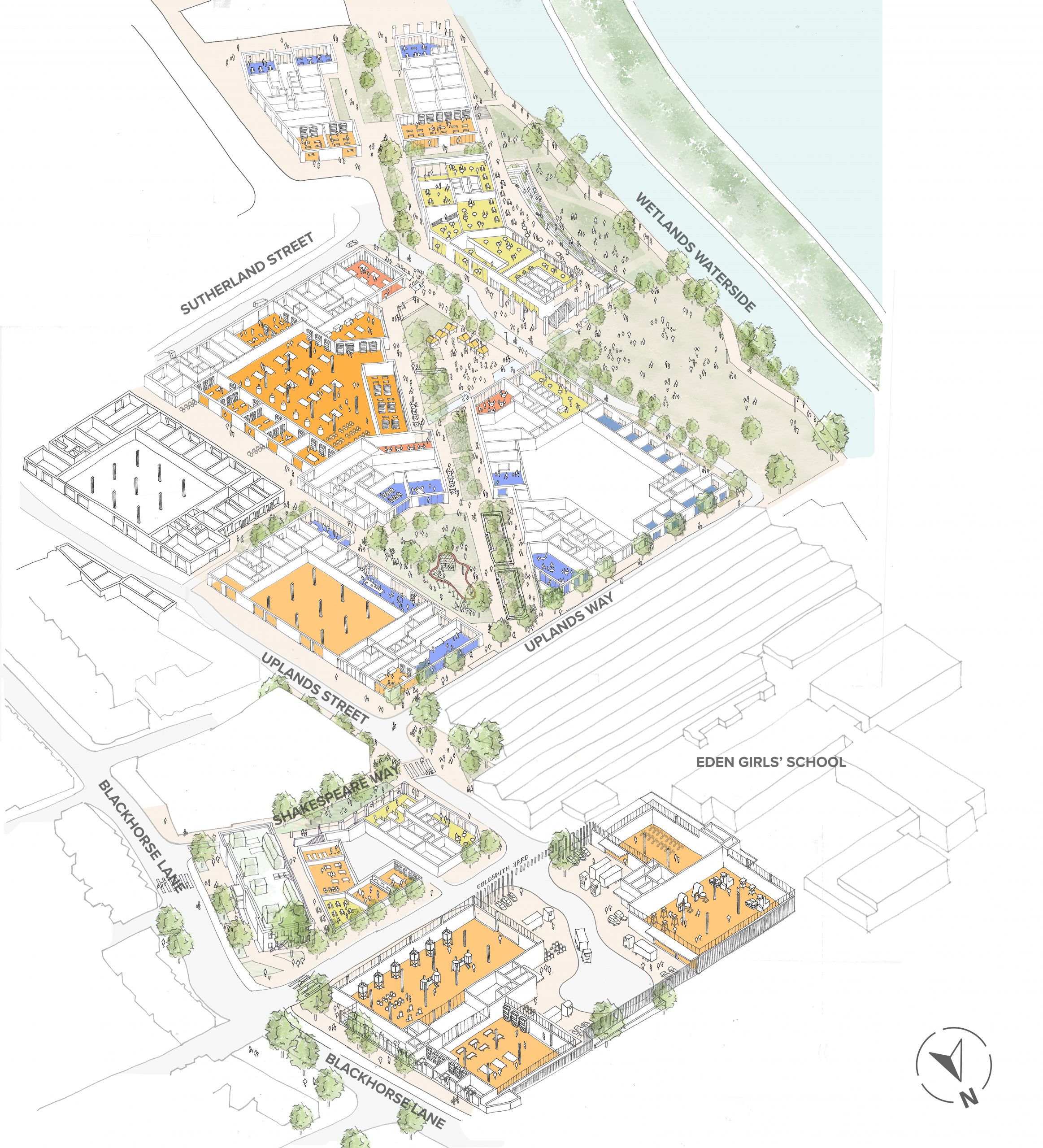 A Hybrid Planning
Application
Phase 1 – detailed application
Innovative stacked industrial buildings providing 18,000sqm of flexible industrial space.
Retention of Uplands House.
A mixed-use building behind Uplands House that includes workshops and 119 new homes.
A new dedicated pedestrian and cycle route.
Phase 1 is due to start in 2024.
Phase 2 – outline application
Over 10,000sqm of new industrial building floorspace.
New residential buildings with retail, leisure and community space towards the west.
Wetlands Waterside, a new park next to the wetlands.
Introduction of approximately 1,600 new, high-quality homes.
Up to 5,000sqm of new employment and community floorspace.
Phase 2 will come forward as a number of sub-phase with the earliest likely to start in 2026.
The phased redevelopment of Uplands Business Park proposes a range of heights and massing between the different buildings types, as we try to maximise the benefits for the local community. In the image below you can see an outline of the proposed building heights. Where tall buildings are proposed these are focused in the centre of the site, with building heights then stepping down as you move towards the Wetlands and Blackhorse Lane. This approach follows the principles set out in the emerging Blackhorse Lane Masterplan.